Features
Prosper is a feature-rich WordPress Theme!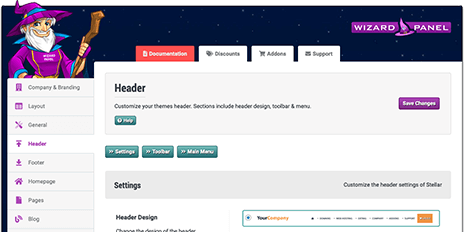 Wizard Panel Theme Options
Wizard Panel is our exclusive theme options panel found inside WordPress. Using Wizard Panel you will be able to edit settings, upload your logo, access shortcodes & more.
Responsive & Fluid
Prosper is a fully responsive WordPress Theme meaning it will automatically adjust to fit the size of the device (desktop, tablet, mobile etc) your visitor is using.
WHMCS Synchronization ($30)
Prosper comes with an optional WHMCS Template that will automatically synchronize with WordPress. This will ensure that WHMCS will match your WordPress website.
Ready Made Hosting Pages
Ready-Made sales pages for your hosting plans and other services. All of the included pages are built using WordPress and can be edited/duplicated easily without any coding.
6 Plan Design Layouts
Prosper comes with 6 design options to display your plans using easy to use shortcodes. Included layouts are multiple pricing tables, data tables & feature boxes.
Shortcode Generator
Shortcode is WordPress's HTML like easy to edit code that allows you to display rich content. This premium WordPress Theme includes shortcode for feature boxes, tables & more.
Block Based Content
Since v5 WordPress implemented a block based content system. Blocks allow you to easily create and move rich content using purpose build widgets including shortcode, posts & more.
Widgetized Footer & Sidebar
Using WordPress widgets you can customize the footer and sidebar in Prosper. Widgets are blocks of content that can be targeted within set areas of the theme. They make editing very easy yet powerful.
Multi-Language Support
Prosper has multi-language support thanks to the Google Translate option that can be enabled/disabled from within Wizard Panel. Google translate allows instant support for every language.
Search Engine Optimised
Prosper is also very search engine friendly such as the ability to define your page title, meta description & meta tags for the main pages from inside Wizard Panel.
Domain Checker Pages
By default WHMCS uses a domain checker page as part of the cart. Prosper includes custom register and transfer domain pages which is much better for SEO and your users experience.
Built-In Animation
As you scroll down the page you will be delighted with animated elements keeping up with modern design trends. This feature can also be turned off instantly within Wizard Panel.
Addons Affiliate Integration
We have integrated pages listing our templates & services which are hooked up to our affiliate program so you can earn commissions on sales. These pages can also be removed via WordPress.
Slimmed Down Login Page
Prosper sees the implementation of a slimmed down login page for WHMCS, removing the header & footer. This is a popular feature with large providers as it creates an exclusive members experience.
Plan Highlighting
Highlight plans of your choice as popular giving greater emphasis to specific plans on a page. This is a very powerful feature seen with all of the largest web hosting companies.
Latest Technology
Prosper has been built from scratch using the latest technology including HTML5, CSS3, jQuery, animations & media quires. We also keep our themes updated with changing technologies.
Industry Leading Support
Along with a selection of high quality documentation we provide some of the best support in the industry as shown by our reviews and 9.7/10 ticket feedback rating over the last 14 years.
WordPress v5.7.2 Support
Prosper has full support for WordPress v5.7.2 out of the box. We ensure that support for new versions is added within 24 hours of WordPress releasing a new version.
WHMCS v8.5.1 Support
The WHMCS Sync Integration of Prosper supports WHMCS v8.5.1 and is continually updated with new versions within a quick time frame as each version is launched.
When I finally found the WHMCS templates on the Zomex website after much googling I contacted Zomex with many, many questions and Jack always responded in a timely fashion.

From those emails it was plain that Jack knew what he was doing and I didn't hesitate to purchase the Ruby theme and installation services. Jack went above and beyond with the installation also helping with a few other bits and pieces.

It's great to work with reliable honest people that have awesome products. Looking forward with the Ruby wordpress theme!
Wizard Panel
Theme options panel
Wizard Panel is our exclusive theme options panel that can be found inside your WordPress admin panel upon installation. Using Wizard Panel you can easily get your web hosting website up and running without HTML experience. With Wizard Panel you can:
Upload your logo
Tweak the theme features
Adjust the menu settings
Edit the homepage feature boxes
Upload slides for the slideshow
Tweak the WHMCS Integration
Find a full list of theme shortcodes
Import custom CSS & much more!
Responsive & Fluid
Supporting every device
Prosper is a fully responsive WHMCS Template meaning it will automatically adjust to fit the size of the device your visitor is using. No matter if someone views your website on a desktop computer or a smart phone your website will scale beautifully to fit. It is also fluid meaning it's been built using percentages rather than fixed pixels so instead of having break-points (e.g iPhone, iPad) it will respond when needed. This creates a very smooth transition and most importantly means your website will support future devices without the need to be edited.
WHMCS Synchronization ($30)
Combine the power of WordPress + WHMCS
We provide an optional WHMCS integration template that will automatically sync with Prosper. Changes to the menus, widgets, pages, Wizard Panel settings, CSS & images are applied throughout all WordPress and WHMCS pages instantly without the need to edit the WHMCS template files.
The Prosper WHMCS Integration template fully supports WHMCS v8.5.1.
We are unable to show a live demo of the integration at this time but rest assured that it works perfectly and is available to install right now. Here are some screenshots of how it looks:
6 Plan Design layouts
Control the display of your plans
We've added 6 design options to choose from to display your product/service plans within Prosper using shortcode. The 6 layout options are:
Feature boxes 1 - popular box design which is bold and easy to display up to 10 products effectively, great for products with only a few varying features such as VPS packages
Feature boxes 2 - this is a basic box design with a title, description & button. It is also perfect for linking to new content
Table 1 - pricing table design allowing you to easily compare up to 6 diverse products
Table 2 - data table design which is perfect for listing up to 10 products with only a few varying features such as SSL certificates
Table 3 - pricing table design the same as table 1 but with less rows
Product boxes - product style box design which is perfect for physical products such as T Shirts
Between these 6 layouts you will have all the flexibility you need to professionally promote your products & services from shared web hosting to physical products.
Shortcode Generator
Generate responsive tables, feature boxes & more
Shortcode is basically easy to edit HTML. It allows you to edit the structure of content in a WordPress page/post. When this page is loaded in WordPress the shortcodes are converted to the more complex HTML which is then displayed in the browser. So with shortcodes it gives the freedom of editing code without the complexity of HTML. Even with no HTML experience you should be able to edit shortcode easily.
Prosper comes with a shortcode generator that will allow you to select shortcode for:
Feature boxes
Pricing tables
Data tables
Buttons
Headings
Lists
Feature grids
Multi-Language Support
Full control of language support
Prosper also supports multi-languages thanks to Google Translate which has been fully integrated out of the box. When enabled in Wizard Panel a language selection button1 will be added to both the WordPress Theme and WHMCS Template allowing your visitors to select their language. Their chosen language will remain active throughout WordPress and WHMCS without the need to re-select it. We feel that this is the best way to support multi-languages on your website as you do not need to translate any text and it allows instant and easy support of every language.
You can also turn off Google Translate from within Wizard Panel if you only want to support one language.
Block Based Content
Drag & drop content control
In v5 WordPress introduced block based content which is a huge enhancement to the content editor. By separating the content within each page into blocks you can re-arrange the order of content and have a clear visual separation of different elements. Prior to v5 this was only possible by using page builders plugins but due to the popularity and easy of use it is now supported natively by WordPress which is great news for users and developers alike.
Prosper offers full support for block based content out of the box. When importing the demo content of each theme all of the content within each page uses blocks.
Widgetized Footer & Sidebar
Customize your theme easily
Widgets allow you to easily setup a section of your WordPress Theme via your WordPress admin panel without any coding experience. Prosper has this functionality available in the sidebar and footer. Some of the widgets that are available by default in WordPress are:
Archives
Categories
Calendar
Custom menu
Links
Meta
Pages
Search Engine Optimized
SEO features out of the box
We recommend using an SEO plugin such as Yoost (free) to add the ability to define page titles, meta descriptions and more for every page of the theme.
The code structure of Prosper has been created with SEO is mind, for example we have used the correct structure for main elements and the proper use of heading tags.
We have also compressed all images and Javascript to ensure your website is lightning fast. Page load times are increasingly a important part of modern SEO.
Industry Leading Support
One ticket at a time
Since launching our first WordPress Theme 13 years ago we have gained a reputation for providing very reliable support. Over this time we have answered over 10,000 support tickets and achieved an astounding feedback rating of 9.7/10.
You will find many of our public reviews on the WHMCS Marketplace & webhostingtalk.com forum.
Version Support
Latest version support for WordPress & WHMCS
Prosper supports WordPress v5.7.2 out of the box including all features and functionality. When a new version of WordPress is released we update our themes with full support and also create an easy to follow update guide for existing users. We always have updates available within 24 hours of WordPress releasing a new version.
The WHMCS Sync Integration supports WHMCS v8.5.1. As with WordPress we also update the WHMCS Sync Integration when WHMCS release a new update.
Pages
Prosper comes with a huge array of pages
Bonuses
Included for free with your purchase
Prosper includes the following premium scripts that have been professionally integrated out of the box! These scripts have been developed by us and were originally developed for use on Zomex. By purchasing Prosper you are saving money while benefiting from these scripts right away.
Free Enom Reseller Account
Automate the sale of domains through WHMCS using your own brand ($100 deposit required).
Free Cryptocurrency Gateway
Get your FREE Coinpayments.net payment gateway and start accepting Bitcoin, Litecoin & more!
Access To Big Discounts
Instant access to big discounts from the leading companies in the industry.
CSS Mega Menu - $29.99 value
Our custom built & fully responsive CSS Mega Menu script that is integrated out of the box.
CSS Pricing Tables - $29.99 value
The pricing tables are light-weight are usable on any page of the template.
WHMCS Invoice - $39.99 value
Our responsive WHMCS Invoice & Quote script that perfectly replaces the default.
Addons
Further enhance Prosper with these addons
We provide a selection of optional addons that are available to select during checkout. Either of the addons can also be ordered at anytime after your purchase from our addons directory.
WHMCS Sync Template
$30.00
This WHMCS Template automatically syncs with your WordPress Theme ensuring both Wordpress and WHMCS match in design and content at all times without having to make manual edits.
WHMCS Configuration
$35.00
We will configure your WHMCS install including up to 3 web hosting plans of your choice.

Note: We will contact you via email to request the required information to complete this service.
Email Template (Flex Mail)
$49.99
Flex Mail is a responsive Email Template for WHMCS, instantly replacing the default WHMCS emails with a stunning yet simple email design, social icon integration, website links & much more.
Color Scheme Change
$50.00
Looking for a complete color scheme change of your theme? Select this addon and we'll change the whole theme color scheme to your preferred either using your provided HEX codes or website example.
EU Cookie Law Script
$20.00
As per new EU legislation websites run by owners in the UK/Europe must notify visitors of cookies. This script complies with this legislation and has multiple settings while also being fully customizable.
Compare
How Prosper compares with other themes
At Zomex we provide high quality themes that have been built from scratch and have many unique features. We are confident that Prosper is one of the best themes available for WordPress and have created a comparison showing some of the those features. Start your business how you mean to go on with Prosper.
FAQs
Our most asked questions
Have another question?
If you can't find the answer you are looking for our support is just an email away.
Do I need HTML/coding experience?
No, Prosper does not require any coding experience thanks to our exclusive options panel and the built in WordPress functionality. You will only need some HTML/CSS experience if you plan to change the colors or design, everything else can be done from inside your WordPress admin panel.
How does the WHMCS Sync work with Prosper?
WordPress and WHMCS are installed in separate directories. E.g:
WordPress: www.domain.com
WHMCS: www.domain.com/clients
All of the edits to your website are completed via WordPress using its built-in powerful tools such as pages, menus, widgets. On the WHMCS side the template will sync automatically with WordPress to display a complete copy of your WordPress website so both WHMCS and WordPress match.
Is WHMCS required?
We recommend using WHMCS for your web hosting business as it allows you to automate billing/account provisioning. This is the best software for running a web hosting business and WordPress is the best software for creating a website. Both combined create a very powerful setup for your hosting business. However, you could use just Prosper along with any payment gateway that allows you to generate order buttons/links (PayPal for example) if you don't want to benefit from the automation and support system provided by WHMCS.
What are the requirements for Prosper?
You will need a domain name and a web hosting account that supports WordPress (the majority do)
If you are planning to use Prosper to provide web hosting services we recommend using WHMCS which will require a WHMCS license.
In order to provide web hosting services you will need a reseller hosting account, VPS or dedicated server which can be automatically provided using WHMCS. We have also written a detailed guide on how to start a web hosting reseller business.
Is Prosper only suitable for web hosting companies?
No, while Prosper includes web hosting related content it is fully customizable and can be used for any type of business.
Why Choose Zomex?
Some reasons why we are the perfect choice for providing your WordPress Theme
13 Years Experience
We have been providing high quality WordPress Themes since 2010 and have gained a huge reputation for the high quality themes and un-matched reliable support we provide.
Unmatched Passion
We have a deep passion for WordPress, having worked with it since 2009. At Zomex we have used this experience to develop what we feel are the best value WordPress Themes.
One-Stop Shop
Zomex is a one-stop shop for your WordPress based business. Not only do we provide WordPress Themes but also all of the services you could need including WordPress Configuration & Logo Design.
Web Hosting Industry Experience
What sets us apart from the competition is our experience in the web hosting industry. We have used this experience to create themes with the most important features.
Great Value For Money
The themes we provide represent very good value for any new or existing WordPress business. Between the high quality features and experienced support included we have your business covered.
Reliable Support
We have been providing WordPress Themes for 13 years. During that time we have answered over 10,000 support tickets and have achieved an overall feedback rating of 9.7/10.