Steps
Launch your new website in 4 easy steps
Create your order
Select your theme
We setup your website
You add your content
Features
Your website will benefit from these amazing features
WordPress Website Builder
WordPress is the #1 website builder used by 35% of websites! WordPress is completely free software which will allow you to change your design, manage content, edit menus, create an online store, add extra features & more.
Sell Online (Ecommerce)
Looking to sell products or services on your website? We have you covered, our DIY web design packages supports full Ecommerce features on your website including creating/editing products, setting up payment options, managing orders etc.
Everything Included
This is a all-inclusive website package. It includes everything needed to create and launch your website, blog or Ecommerce store including a Website Address, Website Builder, Email Accounts, Web Hosting & SSL Certificate.
Responsive Website
Our DIY Web Design service ensures that your website is fully responsive meaning it will adjust to fit the device used to by your visitors. For example a large desktop & small smartphone.
Limitless Features
WordPress allows you to add and remove website features as and when you need. Some features you can add to your website are sliders, galleries, forms, social media, video, maps, newsletters & more.
Search Engine Optimised (SEO)
An effective has to be created in such a way that it performs in the search engine. WordPress is inherently good for SEO out of the box and comes with hundreds of SEO plugins.
Free Web Hosting
Web hosting is the service required to make a website live. We provide completely free premium web hosting that comes packed with many powerful tools including cPanel, email, automated backups & more.
Free Website Address
Choose your very own .com or .co.uk website address for your business. The domain you choose is included for free with your DIY Web Design package. Manage every aspect of your domain easily.
Free SSL Certificate
We include a completely FREE SSL certificate for your website. An SSL certificate encrypts your website allowing it to be accessed over the secure https URL which is very important for Ecommerce.
Unlimited Email
Email is a vital part of any website. For that reason our DIY Web Design service comes packed with unlimited email (example@yourbusiness.co.uk) along with full webmail access.
We hired Jack at Zomex to design our logo and build our website to assist with marketing strategies such as SEO. Reliable and affordable service, would certainly hire the team again. Nothing was too much trouble. I recommended wholeheartedly -
View
WordPress
The #1 website builder in the world
WordPress is a free and open source website building software that is used by an astonishing 35% of websites. What makes WordPress so special is that it allows you to create a high quality website without any experience. Using the admin panel you can change your design, edit the menu, create new pages/posts, upload images & more. There are also thousands of free designs to choose from to kick-start your new website. WordPress also offers thousands of free plugins which add extra features allowing you to create any type of website.
WordPress Features
Thousands Of Themes & Plugins
WordPress supports thousands of responsive themes & plugins that are completely free allowing you to instantly enhance your website.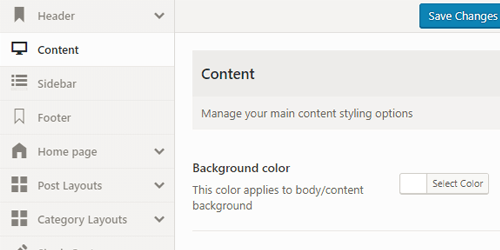 Easy Website Settings
WordPress themes come with easy to use settings such as the ability to upload your logo, change display settings, integrate social networks & more.
Unlimited Content Management
Easily mnanage the content of your website from creating pages, editing text, create blog posts & more from inside your WordPress dashboard.
Menu Manager
Managing your website's menus couldn't be easier with WordPress. You can add, edit & remove links easily without any past experience.
Powerful SEO Features
WordPress comes packed with built-in SEO features and is inherently very SEO friendly. You can also take SEO to the next level with many free plugins.
Media Management
Manage your websites media (Upload, remove and edit images) easily using the WordPress media manager accessible within WordPress.
Sell Online
Using the power and ease of WordPress
Looking to sell a product or service on your website? Woocommerce is a cusomitzable plugin that is installed in WordPress to add full Ecommerce support to your website. Launched in 2011 Woocommerce is the most popular online store plugin and is completely free. Our DIY Web Design service includes completely free installation and setup so you can launch your new store quickly.
Why Woocommerce?
Create unlimited products
Easy to use
Hundreds of themes
Product sorting and filtering
Sell to any country
Offer multiple payment options
Responsive Web Design
Your website will support all devices (desktop, tablet, mobile)
Create a fully responsive website using our DIY Web Design package. A responsive website will automatically adapt to fit the device used to access it. For example if your visitor accesses your website with a desktop they will see a full scale version, then if they access with a mobile device it will automatically adjust to fit.
Why Choose Zomex?
Why we provide the best platform to create your own website
One-Stop Shop
Our DIY Web Design service includes everything you need to launch your own website. Our single package includes a domain, web hosting, free SSL, WordPress installation & unlimited email
14 Years Experience
We have been providing high quality website services such as design & web hosting since 2009 and have helped hundreds of businesses create powerful websites at a cost effective price.
Affordable Web Design
We are confident that our feature-rich $100 DIY Web Design service is one of the most affordable solutions compared to the huge amount included with the package.
No Hidden Costs
We have heard too many stories about providers constantly increasing renewal prices or creating large invoices for SSL. Our DIY Web Design package is simply $100/year.
Unmatched Passion
We have immense passion for the products we create & services we provide. Most importantly we put a lot of time into providing quality support which is included for free.
Reliable Support
We started Zomex over 14 years ago. During that time we have answered over 10,000 support tickets and have achieved an impressive overall feedback rating of 9.7/10.
Examples
Here are just some of the websites that have been created using our DIY Web Design service
See more websites creating using our DIY package
FAQs
Our most asked questions
Have another question?
If you can't find the answer you are looking for our support is just an email away.
Do I need experience to create my own website?
No you do not need any technical knowledge to create a website with our DIY platform as it utilises the very powerful website builder, WordPress.
Do I need a website?
If you are looking to create or already have a business then a website should be a vital part of your overall brand.
Where will my website rank in Google?
Our platform allows for an instantly well optimised website that provides a perfect base to perform well in the search engines. Aside from your website itself the most important way to ensure your website ranks in Google is to build links to it. For example sharing your website on social media and on community forums.
DIY Web Design
Our DIY Web Design package includes everything you need to create a powerful website that can be expanded as your business evolves.
The all-inclusive package we provide includes every aspect needed for a competitive website that can be created without any technical knowledge. This includes a website address, website builder, email, web hosting & secure SSL
We utilise the website builder, WordPress. WordPress is the most popular software for creating and managing a website with an astonishing 35% of all websites using it. As part of our DIY Web Design service we include completely free WordPress installation and setup along with reliable support.
Whether you are looking to create a website, blog or online store our DIY Web Design package is the perfect choice for a high quality website at an affordable price.